Jewelry Repair - Free of Charge
In-house repair services for RootFlowerFruit original jewelry and amulets may include necessary repairs caused by misuse or extreme wear and tear, such as:

Broken chain repair
Damaged stone, bead, or bone replacement
Bent or misshapen metal repair
Clasp replacement
Necklace restringing
Please note that not all damages are repairable, but I will make every effort to repair your jewelry to the best of my ability. I do not guarantee that a repair will always be possible, but if it is, I stand behind the quality of my repairs.
As a small single designer shop, it's important to note that my collections are all made in limited editions and that not all replacements or repairs will be an exact match to the original. For example, when replacing raw crystal, stone or bone an exact match is not possible due to the unique natural qualities of each. Additionally, unique clasps and charms may not always be available for replacement. 
In all cases I will assess the damage and provide you with a quote for the repair cost. Shipping costs are the responsibility of the customer. Return shipping costs will be estimated, calculated and added to the final invoice.
To get started, simply add this to your cart with a description of the damage and a photo of the item. Complete the checkout process and I will respond with a quote and instructions for shipping your jewelry to the studio. No payment information will be collected or charged until you have reviewed your personal quote and decide to move forward with a repair.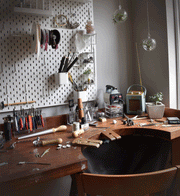 Jewelry Repair - Free of Charge